June 4, 2018
Lars Norén – Print Room at the Coronet, London
SELTA member Kevin Halliwell reviews The Print Room at the Coronet's welcome production of two short plays by Lars Norén. Act and Terminal 3 are directed by Anthony Nielson and translated from the Swedish by Marita Lindholm Gochman.
Act and Terminal 3
directed by Anthony Nielson, translated from the Swedish by Marita Lindholm Gochman. 1 – 30 June 2018
Lars Norén has a solid following across Europe and, to some extent, the United States, but his work has struggled to find the same exposure and recognition in the UK. The Print Room at the Coronet's June 2018 production of two short Norén plays, Act and Terminal 3, is therefore particularly welcome.
Act centres on a power struggle between a hunger-striking terrorist and the doctor tasked with assessing her.  The piece was originally set in post-war Germany, with clear echoes of Ulrike Meinhof (the prisoner is simply named "M"), but for this production director Anthony Nielsen has updated the action to a dystopian America in the aftermath of some unspecified civil war.
The Coronet's cavernous stage provides the perfect backdrop for Laura Hopkins' post-apocalyptic set – a clutter of Coke cans, stockpiled toilet rolls, US and Confederate flags hanging forlornly, neon strip lights and a basic builder's inspection lamp for physical examinations – all under the impassive gaze of a large crucifix.
In this desolate place, M and the physician G (Temi Wilkey and Barnaby Power) engage in a verbal combat in which each will try to destabilise the other, the prisoner often gaining the upper hand. How does she know so much about him and why do the facts keep shifting? Is what we are witnessing real or are we experiencing the hallucinations of M's sleep-deprived mind?
What is undoubtedly real, however, is torture and the complicity of the State (then as now) in its execution. G's homely Southern-states drawl belies a fierce determination as his assault on an already badly wounded arm provokes a terrible cry of pain that pierces the auditorium.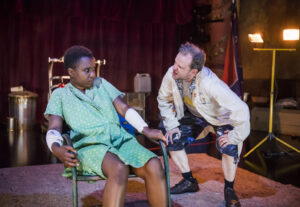 Following the interval, Terminal 3 opens with a giant screen that divides the space into two halves containing a young couple, He and She (Robert Stocks and Temi Wilkey) who are expecting their first child, and an older couple, Man and Woman (Barnaby Power and Hannah Young), who have come to identify their dead son. The space, which we are told is called "C" – or in a typical example of Norén's comedic flippancy, "maybe 'O' with a bit missing" – thus doubles as a kind of waiting room for a maternity wing and a morgue respectively.
As their stories gradually overlap and intertwine, we become aware that this is one and the same couple, separated by 19 years of life and – mostly bitter – experience.
A leftover from the previous set is the ever-present crucifix, this time looming over a much sparser, more orderly environment. The dry ice and already wilting flowers strewn across the maternity half of the stage foreshadow the story unfolding on the other side, as does the dialogue between the clearly unhappy and ill-matched young couple. Morgue-side is more of a church-like environment, the Coronet's late-baroque interior providing the perfect setting for church benches, flickering candles and the odd votive niche.
The piece is by turns awkward, darkly funny, moving and painful to watch as Norén presents us with some of his recurring themes: the fast flow of time and the transience of all things; a Pinteresque failure of communication; birth and death as the unfathomable yet inexorable bookends to human existence; life itself as little more than a waiting room.
In Marita Lindholm Gochman's flawless translation, this is an utterly compelling evening of theatre in which the characters are always totally believable, thanks not least to four deeply truthful performances from an exceptional cast.
By Kevin Halliwell
Photos courtesy of Print Room at The Coronet