July 20, 2019
Meet the Publisher – Finding out how Hachette publish books
In early July, the publishing group Hachette ran an afternoon session about how books are published. SELTA Chair Ian Giles was there and has written this report.
In early July, the publishing group Hachette hosted members of the Society of Authors who had previously been published by the group and its imprints (whether as authors, illustrators or translators) for an afternoon event on how books are published at its beautiful headquarters on the Thames, just round the corner from Blackfriars station.
Billed as 'Meet the Publisher', the session promised attendees that they would find out about all aspects of a typical book cycle and have the chance to ask plenty of questions, as well as networking with Hachette's great and good afterwards. The participants included Hachette CEO David Shelley, Ruth Alltines (MD of Hachette Children's), Jamie Hodder-Williams (CEO of Hodder, Headline, Quercus and JMP & Director of Trade Publishing), Nick Davies (MD of John Murray Press) and Diane Spivey, the group contracts director. Chairing proceedings was the SoA's Chief Executive Nicola Solomon.
The panelists first discussed how a book is chosen. It was noted by several that although Hachette acquire a lot of titles (around 6,000 per annum), the vast majority of titles they consider are ultimately not acquired. However, there was an emphasis on the fact that acquiring titles was a dedicated, detailed group effort that involved multiple members of staff from a range of specialisms being consulted before a decision was made. In particular, the speakers were keen to emphasise that acquisitions were not solely sales-led, and that costing on projects was actually something that took place much later in the process. Instead, the greatest importance was on finding titles that fitted the list.
There was a focus on how rights were negotiated on contracts, with Diane Spivey stressing that contracts should always seek to cover all elements of payment and which rights were and were not being granted. One interesting nugget to come out of the discussions about contracting books was the discovery that the contracts team, at least at Hachette, are responsible for creating the metadata relating to a title. The resolve to include a translator in a book's metadata consequently resides with the contracts team. More generally, the contracts team provide advice to acquiring editors who are unfamiliar with the process. In this regard, it would seem that no matter how virgin a buyer an editor is – even of translations – they should have suitable advice available to them in-house. There was also an explicit acknowledgement that an initial contract is always considered to be a draft and that there is room for negotiation over most issues, although Hachette has firm lines in the sand on certain matters and rights.
Discussion moved on to other elements of the Hachette operations, including details about its new distribution centre in Didcot, which cost a 'high eight-figure sum' to construct and is capable of distributing one million books every day. There was also an explanation of what Hachette does for older books in its lists, with a focus on enhancing searchability of titles and improving metadata so that customers can still find them and buy them.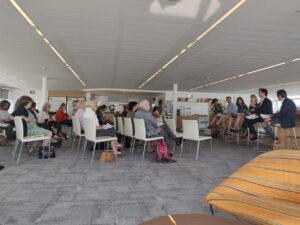 There were a couple of questions from the audience relating to how the process works when applied specifically to translated titles. In general, dealing with foreign literary agents was deemed a rarity (and it was noted that many countries simply don't have any), with publishers often choosing to look and see what their 'partner' publishers abroad were acquiring. None of the panelists had experience with translations, but they had consulted Katharina Bielenberg of MacLehose Press beforehand. The reported response was that many acquisitions were done on the basis of trust and long-term relationships with foreign publishers and authors.
MacLehose Press publishes about 30 books per year, and takes a cautious approach to acquisitions. Apparently, they frequently commission two or three reader's reports on a title before buying rights, and will often commission a paid sample from a translator before finalising that decision too. Once again, the element of trust-based relationships was emphasised in the process of finding translators.
Other questions from the audience were interesting and diverse, including queries on whether existing children's writers could make the jump to adult fiction (or vice versa) within the Hachette umbrella, promotional strategies for educational titles, and how to keep track of royalties on old titles where digitalisation of records might be wanting.
Soon time was up, however, and there was an opportunity for networking over a glass of wine in the lovely roof garden on top of Hachette's offices. While the event was largely not translation-focused, it still offered a lot of insights into the workings of the industry that were helpful. Perhaps the most useful element was the discussion of contracts (both during the session and afterwards). Most pleasant was the humanising element of making the creators and the commissioners seem like normal people to each other. If Hachette (or another publisher) runs a similar event with the Society of Authors in future, I would strongly recommend that SELTA members consider attending.
PS from SELTA member Anna Paterson, who also attended:
Because I'm translating a book for one of the Hachette imprints, I was there on the day or, rather, afternoon/early evening. I thoroughly agree with Ian's account; as he says, 'the humanising element' was important. The event seems to have been an initiative organised by the young and driven CEO. It is a pity that not many more of 'The Creatives' had taken the opportunity to meet 'The Publishers' on a slightly business-oriented terms than usual.