October 31, 2022
SELTA at 40: Harry Watson
In celebration of SELTA's 40th anniversary in 2022, here we reproduce a piece by Harry Watson originally published on SELTA's website in 2014. Harry joined SELTA in the early 1990s.
I was very interested to read the Karin Boye poem inspired by a visit to Linköping Cathedral in SBR 2014:2. I didn't know the poem before. My introduction to Sweden, the Swedes and the Swedish language came from a two-year stint (1970-72) teaching English in Linköping for Folkuniversitetet (British Centre). I passed the cathedral most days, and remember attending a performance of Heinrich Schütz's Christmas Oratorio there. At one time the wife of the cathedral dean was my student and our class met at least once in the pleasant surroundings of the deanery.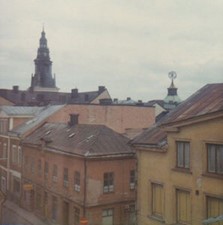 A few words about the life of an EFL teacher in Sweden in the far-off days of Olof Palme and Gunnar Sträng (the long-serving finance minister) might be of interest to SELTA members who have followed a more academic route into literary translation. Adult education organisations proliferated in Sweden, some of them affiliated to a particular political party. The Folk University was an exception in that regard, and prided itself on employing only teacher-trained native speakers as teachers of English. Each year between seventy and eighty teachers were recruited from all over the UK on one-year contracts which could be renewed for a further year (a longer stay incurred problems with the tax authorities!).
Where a rival teaching organisation was particularly well entrenched, the FU's policy was to work with them rather than try to compete. So in my first year in Linköping, just after graduating from Moray House teacher-training college in Edinburgh, I was attached to TBV (Tjänstemännens Bildningsverksamhet), which catered mainly for white-collar workers and had links to Folkpartiet, the Liberal Party, if I remember correctly. But towards the end of my first year I was told to transfer to the newly-opened branch of Kursverksamheten vid Stockholms Universitet (KV). Stockholm University had had a presence in Linköping since 1967 (becoming Linköping University in 1975), and KV was its continuing education branch.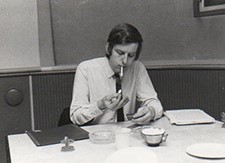 But my favours were spread more widely than that, with weekly visits to the neighbouring towns of Finspång (adult evening classes) and Mjölby (admirable gymnasium or high-school pupils staying on for me after the end of the school day). My occasional chauffeur to Finspång (I was and am a non-driver) was an Austrian teacher of German and French who freelanced as a part-time gamekeeper for local aristocrat Grev Douglas (a Swedish count of Scottish descent) and many a trip to Finspång saw us diverting into the local forest so that Norman could check his mink-traps. I took the Malmö train the few miles down to Mjölby and kept up to date with the news from Skåne by browsing discarded copies of Sydsvenska Dagbladet.
There was also a weekly session in Linköping itself with Allmänna Ingenjörsbyrån (consultant engineers), who would liven up the last lesson of term with bunting and a generous "carry-out" of starköl, and their diametric opposite, Husmodersföreningen, a sort of cross between the WI (WRI for Scottish readers) and the Townswomen's Guild. And I mustn't forget the delightful young ladies of Elsa Brändströms flickskola, the local girls' school (do they still exist in Sweden?).
Trips out to Lunnevads folkhögskola at Sjögestad in the wilds of Östergötland were no fun in the depths of winter when I had to trudge through the snow for about half an hour after getting off the bus from Linköping. Then I would do mad things like singing folksongs to the young adult students, this particular establishment having a specialism in music.
By the time I returned to the UK in 1972 I was fairly fluent in Swedish, and decided to do the Newcastle University Certificate of Proficiency in Swedish. But when Professor Duncan Mennie, a pioneer of Scandinavian Studies in Britain, asked me what I was going to do with it, I was at a loss. Later, I discovered that it was possible to do a University of London external BA in just about any language under the sun, including the Nordic ones, as long as you had some previous knowledge and were able to prepare yourself for the exams with the help of reading lists, so that was my next goal, finally achieved in 1980.
So what to do with my brand-new and frankly useless degree in Scandinavian Studies? Just as I was toying with the idea of embarking on a Ph.D. on the historical novel in Sweden, I read an article in the Guardian by the literary editor, Richard Gott, in which he described a visit to Stockholm where he had met up with a group of Swedish writers who were complaining about the difficulty of getting translated into and published in English. One name I recognised was Per Wästberg, a writer whose books I had enjoyed once I had enough Swedish to understand them. I contacted him through the newspaper with an offer to do some translations for him, he responded with alacrity, and I was off and away. That initial contact led to further openings, and over the years I have translated several major biographies of figures such as Axel Munthe, Raoul Wallenberg and V.V. Mayakovsky for the likes of IB Tauris and Chicago University Press, as well as many articles for various arts journals such as ARTES INTERNATIONAL and OO-tal.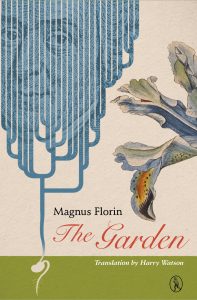 More recent translations include a biography of the Nobel family and their contribution to the industrialisation of Russia, in which Bloomsbury have expressed an interest, and a biography of J.G. Andersson, a Swedish explorer and geologist who was recruited by the new Republican government in China in 1914 to prospect for mines. In the event, Andersson developed an interest in archaeology and anthropology and ended up helping the Chinese to rewrite their prehistory. This translation still awaits a publisher.
I would like to have translated more fiction, but I have built up a relationship with Magnus Florin, chief "dramaturge" at Dramaten in Stockholm, former head of drama for Swedish Radio and author of a series of rather quirky little novels, some of which I have translated for Vagabond Voices, an independent publisher in Glasgow.
I count myself very lucky, especially as I had a day-job as well, right up to early retirement in 2001, and have never had to rely on translation for my living. To end on a downbeat note, I am not sure how anyone manages to do that, so many are the hazards and pitfalls of the translation trade.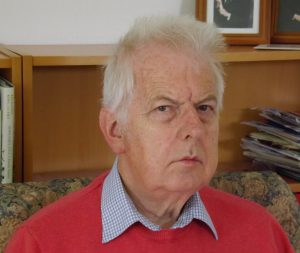 Photos: Top, Harry Watson on his holidays (with socks). (1) View of Linköping from Harry Watson's flat in Ågatan in the 1970s; (2) Harry in his teaching days in Sweden (before the smoking ban); (3) Cover of Harry's translation of Magnus Florin's The Garden; (4) Harry today. All photos provided by Harry Watson.